Prayer & Fasting -- The Goal
At the beginning of each new year, we as a church body, set aside 21 days to fast and pray. The goal is for each one of us to draw nearer to God. Fasting, in a spiritual sense, has to do with eliminating distractions that keep us from reaching that goal. As we eliminate distractions and seek God in prayer, we'll be able to hear His voice more clearly and experience the nearness of His presence. Fasting renews our life from the inside out; enables us to celebrate God's goodness and mercy; and prepares our hearts for all God desires to bring into our lives.
Two specific areas we will be focusing on together are leadership and finances. The Bible tells us to continually pray for our leaders. (1 Timothy 2:1-2). Pray for those in government positions, as well as those in church leadership, to be directed by God as they strategize and make decisions. Isaiah, Chapter 58, proclaims that the chosen fast will "undo the heavy burdens and let the oppressed go free." Due to tough economic times, there are many people living under heavy burdens and oppressed financially. As we fast and pray, let's believe for financial blessings to be released into your life, other's lives and the life of our church. We've been commissioned by God to help foster kids and families by building The Ranch at Fireside. This will take an immense amount of finances, but with God ALL things are possible! Pray specifically for finances to build the new homes and pay off the property.
As you prepare for this time of fasting and prayer, ask the Lord to show you any personal areas that need targeting. We believe that, as we pray and seek God and give Him our best at the first of the year, He will bless our ENTIRE year (Matthew 6:33)! It takes discipline and strength to fast— but, both strength and rewards for private discipline, come from God. He is a rewarder of those who diligently seek Him. (Hebrews 11:6)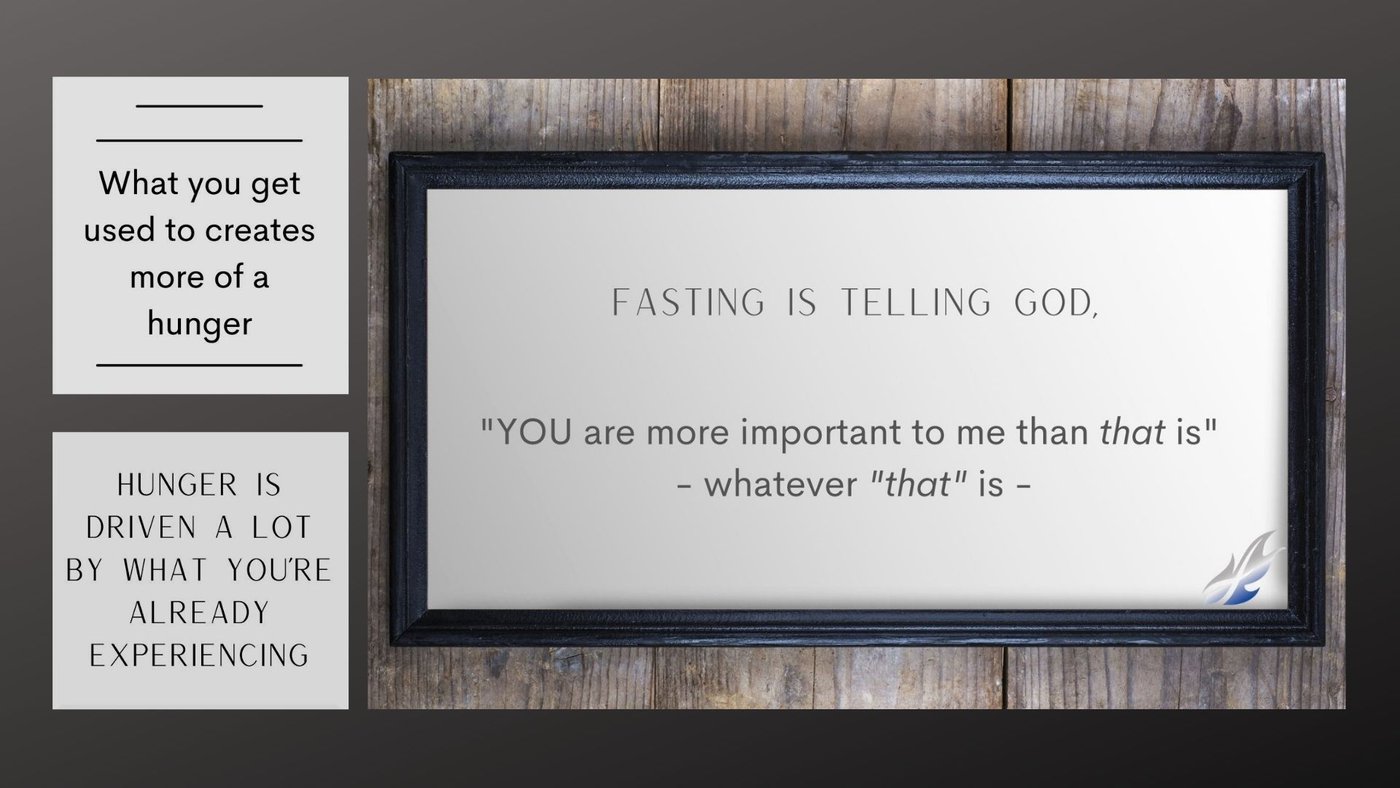 Types of Fasts
A personal fast should present a level of challenge, but it's crucial for you to know your body and use wisdom concerning health issues. There are many fasting options listed below, but most importantly you need to seek God in prayer and follow what the Holy Spirit leads you to do.
Complete Fast
In this type of fast, you drink only liquids, typically water with light juices or broth as an option.
Selective Fast
This type of fast involves removing certain elements from your diet. One example of a selective fast is the Daniel Fast, during which you remove meat, sweets, and bread from your diet and consume water and juice for fluids and fruits and vegetables for food.
Partial Fast
This fast is sometimes called the "Jewish Fast" and involves abstaining from eating any type of food in the morning and afternoon. This can either correlate to specific times of the day, such as 6:00 am to 3:00 pm, or from sunup to sundown.
Soul Fast
This fast is a great option if you do not have much experience fasting food, have health issues that prevent you from fasting food, or if you wish to refocus certain areas of your life that are out of balance. For example, you might choose to stop using social media or watching television for the duration of the fast and then carefully bring that element back into your life in healthy doses at the conclusion of the fast.
Scripture References
For Fasting:
Relation to Prayer and Reading of the Word:
Corporate Fasting:
FASTING TIPS -- by Jentezen Franklin
How to Begin
Start with a clear goal. Be specific. Why are you fasting? Do you need direction, healing, restoration of marriage or family issues? Are you facing financial difficulties? Ask the Holy Spirit for guidance. Pray daily and read the Bible.
Preparing Spiritually
Confess your sins to God. Ask the Holy Spirit to reveal areas of weakness. Forgive all who have offended you and ask forgiveness from those you may have offended (Mark 11:25; Luke 11:4; 17:3-4). Surrender your life fully to Jesus Christ and reject the worldly desires that try to hinder you (Romans 12:1-2).
Deciding What to Fast
The type of fasting you choose is up to you. You could go on a full fast in which you only drink liquids, or you may desire to fast like Daniel, who abstained from sweets and meats, and the only liquid he drank was water. Remember to replace that time with prayer and Bible study.
Deciding How Long
You may fast as long as you like. Most can easily fast from one to three days, but you may feel the grace to go longer, even as much as 21 to 40 days. Use wisdom and pray for guidance. Beginners are advised to start slow.
What to Expect
When you fast your body detoxifies, eliminating toxins from your system. This can cause mild discomfort such as headaches and irritability during withdrawal from caffeine and sugars. And naturally, you will have hunger pains. Limit your activity and exercise moderately. Take time to rest. Fasting brings about miraculous results. You are following Jesus' example when you fast. Spend time listening to praise and worship. Pray as often as you can throughout the day. Get away from the normal distractions as much as possible and keep your heart and mind set on seeking God's face.
How to End
Don't overeat when the time comes to end your fast. Begin eating solid food gradually; eat small portions or snacks.